Freedom's Fortress

Vincennes' History of Service to the United States
By M. Shawn Hennessy
Foreword by Marcus Brotherton
Introduction by Dan Quayle
The USS Vincennes CG-49 was commissioned on July 6, 1985, and served the citizens of the United States with distinction for 20 years. She was the fourth U.S. naval vessel to bear the name and was the first warship to bring the Navy's Aegis platform to the U.S. Pacific Fleet.
Vincennes was an instant celebrity with the public and naval community from the time she arrived in her homeport, San Diego, CA. She was an even bigger celebrity with the citizens of Vincennes, Indiana, and the veterans of the previous Vincennes cruisers from WWII.
The pages in this book represent more than 70 combined years of U.S and naval history that began during the American Revolution and continues to this day. With more than 200 images (most are previously unpublished) on 178 pages, this book provides readers with new perspectives of each ship as well as glimpses that have been long forgotten.
This hardbound work is presented on archival quality paper with four-color printing wrapped in a handsome dust jacket and will make a great addition to the libraries of Vincennes sailors, their families and people who are simply interested in a complete volume regarding these historic navy ships.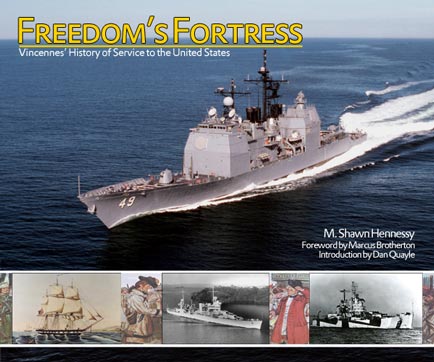 Details
Hardcover

(with dust jacket): 178 pages

Images

: 202 (11 illustrations, 59 black & white, 132 color)

Publisher

: MS Hennessy Publishing and Blurb; First Edition (May 18, 2009)

Language

: English

ISBN

: 978-0-615-29191-8

Product Dimensions

: 10 x 8 x 0.8 inches

Shipping Weight

: 2.6 pounds (shipped via USPS, insured)
Volume Pricing is available. If you have any questions, please contact us.
Copyright 2009-2011 - MS Hennessy Publishing, All rights reserved.