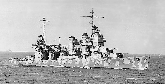 CA-44: Camouflage scheme.
The heavy cruiser Vincennes (CA-44) was laid down on 2 January 1934 at Quincy, Mass., by the Bethlehem Shipbuilding Company's Fore River plant, launched on 21 May 1936, sponsored by Miss Harriet Virginia Kimmell daughter of the mayor of Vincennes, Ind., and commissioned on 24 February 1937, Capt. Burton H. Green in command.
The new heavy cruiser departed from Boston on 19 April 1937 for her shakedown cruise which took her to Stockholm, Sweden, Helsingfors (Helsinki), Finland, Le Havre, France, and Portsmouth, England.
Early in January 1938, Vincennes was assigned to Cruiser Division ( CruDiv) 7, Scouting Force, and steamed through the Panama Canal to San Diego. In March, the ship participated in Fleet Problem XIX in the Hawaiian area before returning to San Pedro for operations off the west coast for the remainder of the year. Following an overhaul at the Mare Island Navy Yard, Vallejo, Calif., which lasted through April 1939, the cruiser returned east, transited the Panama Canal on 6 June in company with Quincy (CA-39), Tuscaloosa (CA-37), and San Francisco (CA-38); and anchored in Hampton Roads on the 13th. For the next two months, she operated out of Norfolk in the vicinity of the Chesapeake lightship and the southern drill grounds. On 1 September 1939—the day on which Hitler's legions marched into Poland and commenced hostilities in Europe—Vincennes lay at anchor off Tompkinsville, N.Y. She then began conducting Neutrality Patrols off the east coast, ranging into the Caribbean Sea and the Gulf of Yueatan, and continued these duties through the spring of 1940.
Late in May, as German troops were smashing Allied defenses in France, Vincennes steamed to the Azores and visited Ponta Delgada from 4 to 6 June 1940 before she proceeded on for French Morocco to load a shipment of gold for transport to the United States. While at anchor at Casablanca, the ship received word of Italy's declaration of war upon France, the "stab in the back" condemned by President Roosevelt soon thereafter. Vincennes' commanding officer, Capt. J. R. Beardall (later to become Naval Aide to the President) noted subsequently in his official report of the cruise that "it was apparent that the French bitterly resented this [the declaration of war] and despised Italy for her actions."